Ladies loungewear



- curl up in a snuggle suit or cuddlee blanket

There has been a big rise in the popularity of loungewear for women lately, particularly with the introduction of new items of clothing designed specifically for lounging in, such as the snuggle suit and the slanket. More traditional items of clothing for lounging in are of course available, such as a velour kaftan, fleece housecoat and fleece leisure suit. You'll find a great selection of ladies' loungewear at House of Bath but the one everybody is talking about right now is the snuggle suit.
Snuggle suit – exclusive to House of Bath
The snuggle suit is the latest loungewear clothing item to take off. It may even become more popular than the slanket! Snuggle suits for adults are like all in one pyjamas made of cosy fleece fabric. Wear them as one-piece pyjamas or just wear your sleeping bag suit for relaxing on the sofa. An all in one snuggle suit is perfect for curling up in on those cold winter nights. With only your hands and your feet exposed they'll keep you lovely and warm no matter how horrible it is outside. Why would you want to brave that nasty weather when you can stay inside, comfy and cosy in your adult snuggle suit!
Cuddlee Blanket – the blanket with sleeves
The slanket is basically a blanket with sleeves, designed for keeping you comfy and warm when you're relaxing on your sofa reading a book or watching the TV. Another famous form of the slanket is the snuggie, but at House of Bath, our version is the Cuddlee blanket. This fleece snuggle blanket is the ultimate in cosiness. You would never have though that a fleece wearable blanket would become so popular but really, don't knock it 'til you've tried it! You'll wonder how you ever survived without a Cuddlee blanket in your life!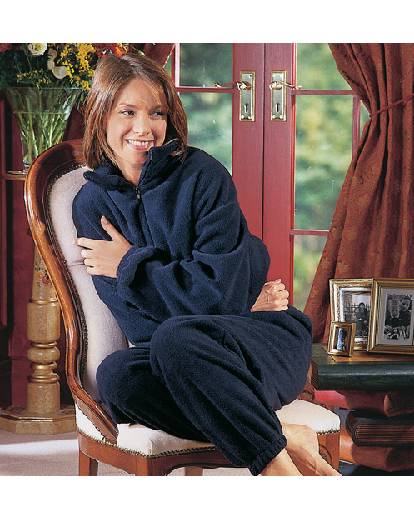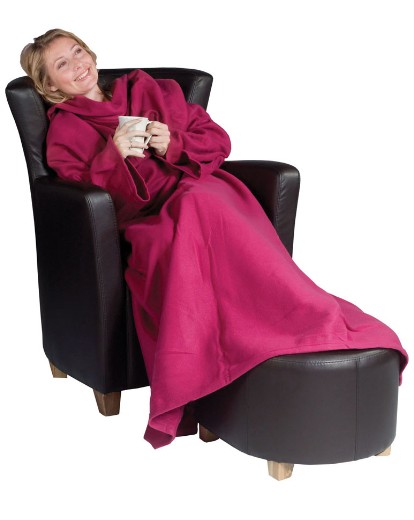 Relax in a comfy fleece leisure suit
If the all in one adult snuggle suit isn't your style, a two-piece fleece leisure suit is ideal. Our smart ladies' fleece leisure suit is available in four attractive colours and features pretty floral embroidery. The great thing about the leisure suit versus the snuggle suit is that you can leave the house in your leisure suit. It's perfect for just popping to the shops. Fleece is probably the cosiest and warmest material around so it's no surprise it's such a popular choice for ladies' loungewear and leisurewear. As well as suits and blankets, a fleece housecoat is another great way to keep yourself cosy indoors – without turning up the heating!
Elegant velour loungewear
If fleece isn't your thing, velour loungewear for women is a very chic alternative. At House of Bath you'll find an elegant velour kaftan that's perfect for pottering about the house in. Wear your velour kaftan as a warm nightie, a dressing gown, or as loungewear for relaxing at home during the day. Alternatively try a chenille zip up gown or a quilted housecoat over the top of your pyjamas or your normal daytime clothing.